Digital Portrait Painting
This is a recording of a digital portrait art painting that took originally over 10 hours of painting time. You will be able to WATCH OVER MY SHOULDER to grasp just everything I do to create this painting.

This digital portrait painting here will bring you back to the time of the renaissance where the painter had the important role of taking a picture from somebody for the posterity and eternity. There were no mobile phones, no cameras. The painter had to capture it all in a scene full of characteristics and beauty.
Learn how to paint a digital portrait
It is one of my most difficult paintings, and it's also one of the most sophisticated paintings I've done so far, so I'm so happy that I have captured it.

I've sped it up for your convenience a little bit – the whole sketch is still quite slow 1,5x speed and the painting is 3x speed, that's perfect for understanding what's going on.

Come with me to this beautiful journey of portrait painting.
I am commenting the painting at the first 10 minutes, where I will give you briefly just every information about this painting, like where the idea was coming from, what helped me, how to draw the sketch and how to apply the colors.
For those of you having the MA-Brushes, there is a file included with the brush list. (This video is also interesting for you if you haven't got the MA-Brushes.)

And you will also get 31 high quality images (JPG) of the painting process.
Paint like a Renaissance Painter would do
– Paint like a REMBRANDT –

You want to achieve something very special with your digital portrait painting art, but you don't know how?
You don't have to invent new stuff, the most beautiful style is given to us by every renaissance painter. Let's learn from them!
Beauty is timeless.
Follow me along from idea, to sketch, to finish, how I'm painting this renaissance warlord with all the details.

What you will learn by watching:
How to set up the canvas (with the example of the MC)
How to create the background
Creating the sketch/pencil drawing out of the reference
Paint a face that speaks for itself in a painterly old style
Applying colors
How to create texture
How to smudge colors
How to create armor parts and Weapon parts (medieval)
A complete list of the used MA-Brushes
A knowing that you can do it, too!
You will get also 31 HQ JPGs of the painting process!
These could be probably the best ever spend 10 Euros invested into yourself and your art.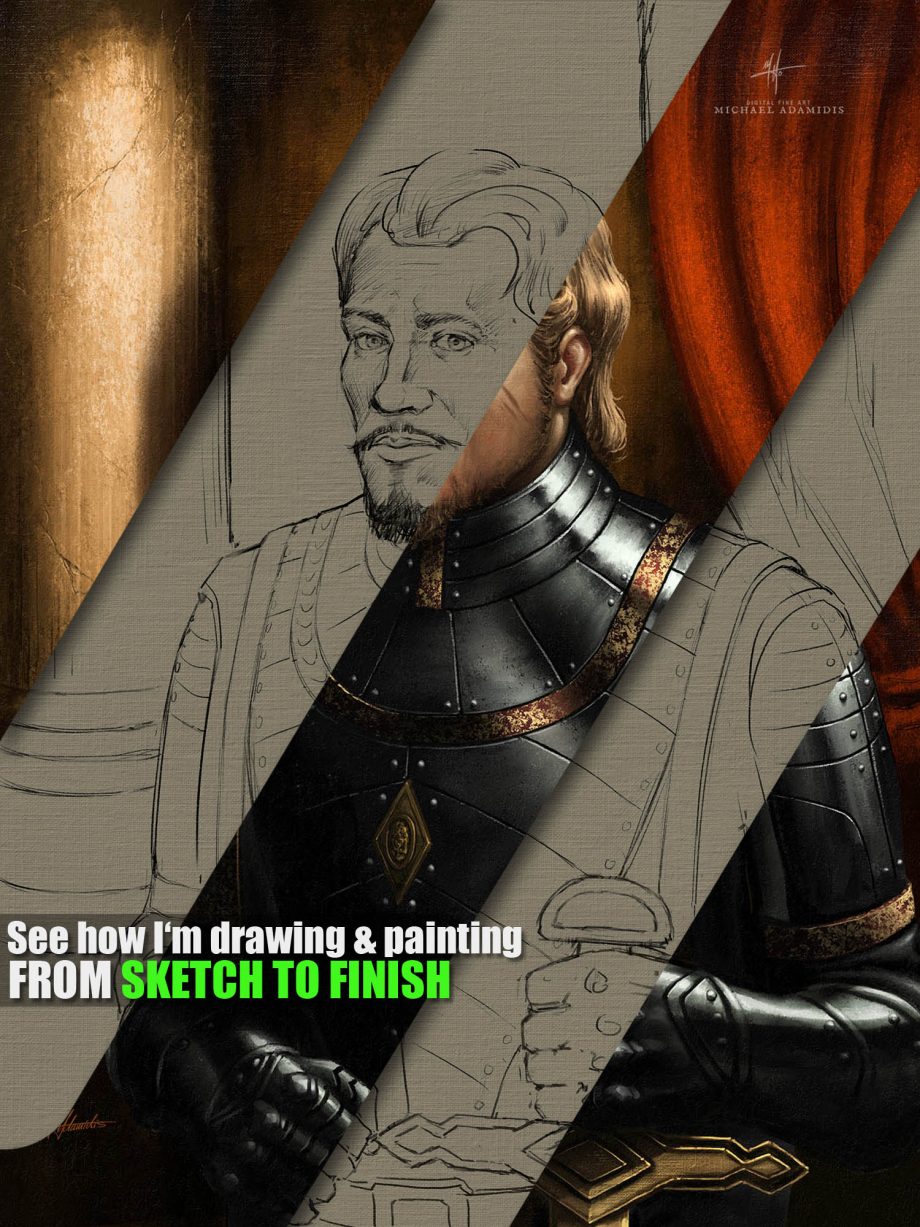 This special portrait pack is available for just 10 Euro!
If you like give my new blog about digital portrait painting a read! You will benefit from it surely.