Welcome, dear digital art friend!
You want to learn how to paint a digital portrait painting?
This here is the best place for you to start this journey.
My name is Michael and I'm happy to be your teacher for the next few minutes of reading. Seems not for a long time, but art is nothing complicated and my aim is to make it very clear and easy – while at the same time having it very detailed and useful.
I know that digital portrait painting is offering a lot of shortcuts and tricks, but I want to focus and teach you how to really draw and paint a portrait. This one is for those who love to go deeper. There is a special fascination in painting a whole portrait painting without any help, but just with the eyes.
So, it's not about using shortcuts, but it's about that "extra" that makes you really proud of yourself as an artist.
You have 2 options now – Choose wisely ?:
To go directly to the main part of this digital portrait painting tutorial CLICK HERE.
Stay here and read also motivational and inspirational notes by me – written just for you! This will help you and your artists mind to be strong along the way. It's to strengthen the inner artist.
Let's dig deep into Digital Portrait Painting
Remember: Art can be very difficult – but it really should not be complicated!

And surely digital portrait painting is one of the most difficult things one can do, but it should not be complicated. It's not necessary to put stones in our way!
Knowing how it works is the key. I want to give those keys to you.

Take your time for it, there are a lot of different ideas and thoughts about the general topic of digital portrait painting. And this blog here should be a big benefit not just for digital artists, but also for normal traditional portrait painters. Most of the rules are the same. I do it the same way either painting a digital or traditional portrait painting.

By the way, learning digital portrait painting the wrong way can lead to doing things complicated and also wrong.
Finally, it will be even more difficult – and less fun. That's why I had the intention to write this article here.
It's to bring my knowledge right to you. It's created with the purpose to help you to learn how to paint beautiful digital portrait paintings.
This article here is not about going any shortcut like working with filters. It's really about drawing and painting digitally.
Even in digital portrait painting, stay connected with the pure and rough idea of painting the portrait and not bringing tricks into play.
I'm showing you mainly how to paint a digital oil portrait painting as this is my very favorite one. It's tough, but absolutely worth it.
It's bringing old traditional digital portrait art to your computer. It's making the impossible very possible.
I'm giving you here the tools and the knowledge for free. A knowledge based on decades of experience.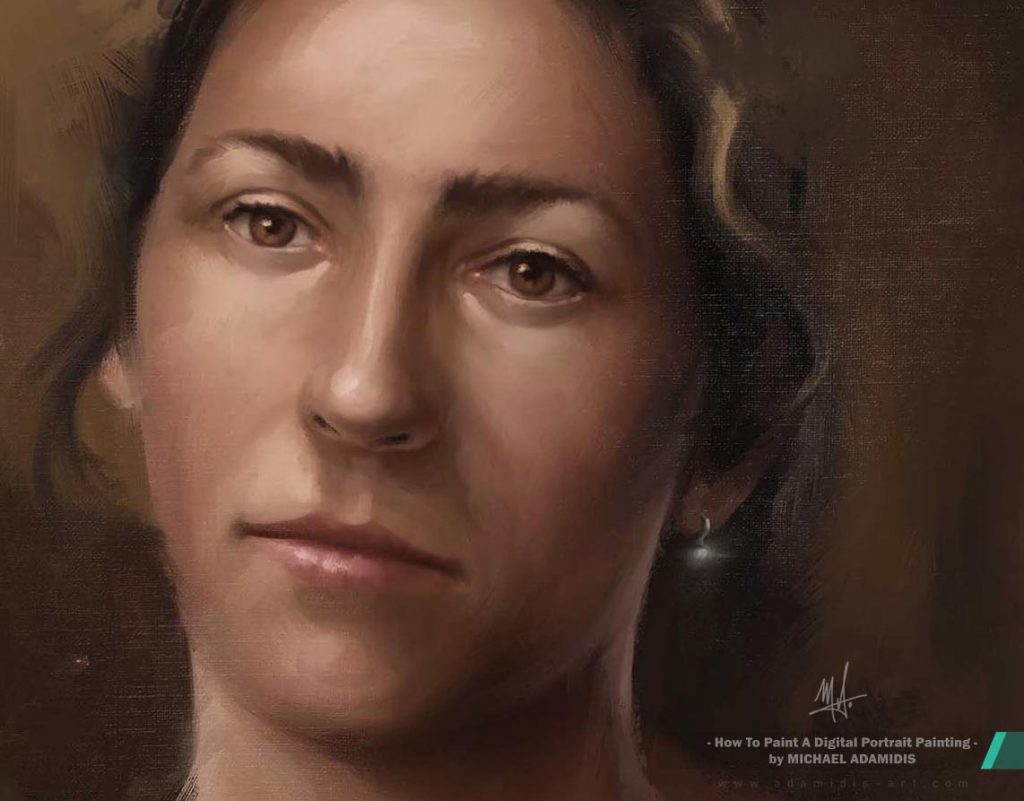 A few words about me
Let me introduce myself to you briefly. My name is Michael Adamidis and I've been working as a digital artist for over 10 years. I've helped for example as a Lead Concept Artist to create games, books, and graphic designs for clients located all over the world.
Lately, of course, most of my work is digitally. Time has changed, the world has changed.
The passion for portrait painting comes from my childhood days, where my portrait painting journey has begun.
I had no teacher, but I remember, as a 10 year old child, that I could paint portraits that good, that friends of ours were asking me to paint portraits as gifts.
Painting digital portrait paintings was just a logical consequence of bringing those experiences to these modern days.
Is it useful? Yes, of course. I've used that digital portrait painting skill in many concept arts like character designs for video games.
I'm selling my art worldwide, and this hardly could be possible with traditional art. It's much easier to connect to the world nowadays with digital art paintings.
But to be very clear, there is no living to be made out of just painting portraits. So, have a good "ground job" and then do your art with ease and without any pressure! That's how art should always be created.
My "ground job" is graphic design and I'm OK with it. It is even better to have a totally different one, like working in a bank and then doing your art in your free time. In my eyes there's no need to always make a living out of your hobby.
Some words about you
If you already have your first digital painting experiences, that's also very good. You will understand things herer much quicker of course, by comparing my advices with your own experiences. This here is just "my guideline", you can do things of course even better. Have your own way. Whatever is working for you and brings good results is legit!
Take your time and come with me through this journey of digital portrait painting.
And remember, you can also check my Art Store here, to learn more about my digital painting courses (new tab). They are really intense and deep, and they are packed with knowledge. Soon there will also be a complete digital portrait painting course. Don't miss that one!
Hey Pixel-Rembrandt, are you ready? – Let's start and dive really deep!
Table of Content of How to Paint a Digital Portrait Painting:
Choose the reference image
Prepare your canvas and tools
Choose a style and have the right brushes for it
Start the sketch line drawing
Find the right colors
Start to block in the colors of the background
Start to block in the colors of the face
Paint the details
Work on the texture
Finish your digital portrait painting in different ways
But first: Strengthen the Inner Artist
Before this lesson here will start, I want to give you a mental help which will show you my deepest inner being while I'm painting a portrait.

–> I'm writing about that not by accident. I know that artists really need to hear words of encouragement and strength. And yes, it is related to the portrait painting, too!

Read this passage very carefully. In my eyes the inner being is the most important part of an artist. There you can find strength, courage, passion and love – or nothing of it, which should not be the case.

For the portrait painting..

be or just try to be..
.. in a state of ease
.. in a state of fascination
.. in a state of love and forgiveness
.. in a state of self comfort and courage
.. in a state of forgiveness towards own mistakes
.. in a state where you have put the world by side
.. in a state of concentration and focus
and:

.. have the knowing and the acceptance that a digital portrait painting is something difficult
.. know that you can do it -> talent is overrated, practise is essential
.. have all the patience you need to proceed slowly
.. if it's possible, don't be disturbed not even by social media

Of all those "qualities" the fascination & excitement for the portrait painting itself and the acceptance of its difficulty is key.
Fascination for it all is simply the best ever motivation for everything. Never stop to be fascinated for something.
Fascination and passion is even more worth than discipline without those two. It is the main ingredients to release all your powers hidden inside you!
But, what's this power inside us? What's the name of this dude with the sunglasses?
I'll tell you – its name is LOVE.
Out of this love everything is created in this world. Some use it for the good, some for bad bad. Be the one to bring something good to this world, you have the choice of course.
Love, is our inner strength in every situation and it is the very source of everything in this creation.
Your love for something is everything you need – it's your passion, fascination, strength, power, creativity, discipline and it's your artists heart.
And it's FREE !!

Now take also this phrase with our art journey:
"You can have it right, or you can have it right now."
This is a sentence that I've heard in an interview with one of the developers of Epic Games from the time when they were creating the game Unreal Tournament.

What a great one!
Our trained ego wants everything right now. It's like a baby crying for everything and even children and adults are like that.
But as somebody who wants to bring value to the world and wants to stand out, this phrase can be a game changer.
Keep it in you. Don't rush, don't want to see results too fast. Being patient is a key factor for your good portrait painting results.
Don't be Scared of Your Portrait Painting while in Process!
Fact is: A portrait painting can look horrible till the last moment. It's because it is created step by step and because of that the facial expression can be distorted a lot.
Create a feeling for the differentiation of wrong lines and shapes which is very essential to find early in the process, and on the other side understand when your problem isn't really one, because it just needs more work to be done in the painting.

A typical example of that can be the part of the eyes. If it's just happened that you are painting just the white of the eyeball and then you are working on other parts of the painting. Suddenly the face could look really strange.
This has happened a lot to me. For example when I've painted my wife. She was staring like a zombie at me out of the portrait – really scary, I can tell you :)!

What sounds quite funny isn't actually very funny, because imagine that part and imagine how much this part could frustrate you.
Don't allow it to frustrate you! Tell yourself, this is not the finished painting.
So develop all those inner aspects for being a strong artist.
---
Start of the Digital Portrait Painting Tutorial
1. Choose the Portrait Image / Reference
Well this is a part that is sometimes in our hands and sometimes not, because as part of a commission you will get a photograph to paint from.
Choose the Reference Image
If you can choose your image, start with the right ones. Start with an image of a person that is looking directly towards the camera. As long as you are a beginner or a slightly advanced painter this is my suggested way to go – it's the easiest one to go.
It makes such a huge difference in terms of skill, if the person you are painting is looking directly into the camera – that's you, the artist's eyes.
If you are an advanced painter of course, go for other types of angles like the known ¾ portrait painting. I'm also not saying that a beginner should never try it, but for the start, this is my advice.
The next step in choosing the reference image for portrait painting is the lightning. I have never in my life painted a portrait painting done with a flash directly from the front, which means coming from the camera or mobile phone directly. And even as a photographer I have never taken such a photo. I'm shocked when I see a photographer who uses the flash directly in the face of a person. Looking at it from an artist's perspective that's something like an artistic sin.
So, choose a reference image with a natural, authentic lightning source. It doesn't have to be a candle hanging from the ceiling, but a normal lamp in the middle of the room will do the job.

Before I forget it: If you are using the image just to practice for yourself without posting it, take whatever reference image you want from the internet – I do it too.
And if you want to post your digital portrait painting, find a good source like pixabay or unsplash.
But, you can also ask a person or directly a model or the photographer for permission to paint their photo. Believe me, most will allow it and also be thankful for it and excited. It is always a win – win situation where everybody has something to win.
You are the artist bringing them more likes.
You will do a great job for them.
So, it is not like you have nothing to paint from.
We are living in 2023 and not in 1590. Imagine how much more variety we have today instead of back then!
If it's a Commission for a Digital Portrait Painting
Now, if you are doing a commission, these are the points you can kindly ask your client for. Tell them that the outcome of the painting will be much better when you will get such a photograph and it is worth it. Often it is possible, sometimes not – these are the hard ones!
So, you could write something like:
For the best outcome of the painting, it would be great to have [name] looking directly to the camera and the photo should be taken without the flashlight of the camera/phone, but with a normal light, which is placed in front of [name]. Maybe he/she could sit slightly left or right to it, so it's shining from the side. What do you think, is this possible?
Yep, ask this.. don't be shy.
Later you AND the client/commissioner will benefit a lot from this step, believe me.

If it is not possible. No problem, you are able to paint even from a difficult photograph with a really bad lightning source. Yes, things will be more difficult, but still possible. Experience will help you in this case of course a lot.
Clients sometimes really want to have that particular image to be painted, because it is special to them.
Don't argue, respectfully accept it and do the best you can to bring even more life to this special photograph. You are the artist!
2. Prepare the Canvas for your Digital Portrait Painting
Now you have the best ever photograph, ready to be painted by a great artist – BY YOU!
First of all, think about it as a real painter. He or she has to prepare the canvas and the colors very carefully.
Do the same!
It will later on save you a lot of time.
Imagine having the wrong resolution and later on you like your painting and you have it very blurred because it was painted in a low resolution. You can not really fix it and believe me, this has happened so many times to me, it's quite a tragedy.
I advise you to start with a resolution with 2000 pixels to 2667 pixels, that's the 3:4 ratio and I feel like this is the best format. And with this resolution you can not make it wrong. If you go higher, many of your brushes that you have for digital portraits could change their behavior and you could also have troubles while zooming in and creating more and more details, where it is really not needed.
Yes, in my eyes, too much detail is not needed. If you are creating a photograph of the photo what is the point?
So, it's obvious, and I will lead you to a more characteristic and artistic digital portrait painting. I'm also talking in my other blog which is mainly about digital brushes, why I think it is so important to give your own special style to the digital portrait painting.
In short: It's like I've said, what's the point in creating a copy of a photo? You need to do more – or call it less. You are an artist, not a copy & paste machine.
In real, traditional art photorealistic painting has surely more value, but we are facing digital art here.
I'm using always the Magic Canvas. It's included in the MA-Brushes and it's giving me the very best fine tuned, high quality cavas texture, that I need for digital portrait painting. It's such a helping hand for me!
For digital portrait painting there are different styles..
3. Choose the Right Style for Your Digital Portrait Painting
Here are some of my digital portrait examples of just for you to look over them:
They could be named like artistic portraits, abstract portrait or impressionistic portraits, digital oil portraits, concept art style (like character design paintings), digital art style (colorful or manga style..), loose style and so on. The list is never ending..
By the way, you don't have to search for your special and personal painting style, like many claim to do.
Your style will come automatically to you, and will be developed over time. You search for a style for example of a digital portrait painting you like and try to achieve it.
This is a journey where you are experimenting with things and trying out. There is then in the next step the possibility that suddenly you like what you are painting and there come more and more ideas of what you can do. Some will be great some not – nothing costs you anything, just your patience and your love towards your work and passion.
So the style is created (in my eyes) mainly through copying a special (already existing) painting style and then it can happen that something new, something special will be formed.
You know it yourself: Whatever you are doing, you can not perfectly copy somebody else's digital painting style. It depends on so many different things like the variety of brushes and the techniques the other painter was using, so it's almost impossible to achieve the same painting. But at the same time, this means, that you will have it your way. And this way could be a good one or not. If not, try another one and so on. Enjoy every painting!
Oh, and if you can't develop something very special and unique, but have a good painting, where is the problem?
You have a good painting, that's what it's all about! Do you think a Rembrandt or a Sargent they were trying to find a personal style? Their main goal was to paint the person they saw sitting in front of them.
That's the whole story.
With abstract and impressionistic painters came also the question about the style, but are you one of them or are you just interested in painting a digital portrait ?
In my case, it was always very clear (and I have never spent a second thinking about that..), I want to paint a portrait. Simply a good one.
So please, don't get lost in the style topic, but be fascinated by the portrait painting itself.
In my eyes fascination is the most important thing. That's why even AI will never stop a person doing something on his/her own.
It is the most fascinating thing to paint something like a portrait (in this case a digital portrait painting), with your own hands.
Now, have the right digital portrait brushes!
Yes, you can go with the normal round brush for a digital portrait painting or any digital painting, that's not a very special statement, like it's often used to create a very viral YouTube video title for something so obvious.
At the same time, those artists will use special digital brushes for just every other painting they make..
Here is a statement which is more to the truth:

It's the best thing to have good digital portrait brushes ready on your side to help you to create an amazing digital portrait painting.
Brushes that mimic real painting brush strokes on your digital computer or device. Brushes that have a texture of paint or the canvas itself in them and brushes that will smudge the paint, so you can blend it.
This all is a big plus in creating a digital portrait, because without these, the digital portrait will look too digital, like out of plastic.
In my eyes, it's great to achieve a more painterly style with your digital portrait painting.
It is priceless to have a variety of digital portrait brushes (like they are available for example in the amazing MA-Brushes) in your hand, so you can achieve just everything you want to, from the pencil brush of the sketch, later then the different brush strokes that lead to a perfect portrait painting, up until the different forms of mixing and blending which are given to you through the mixer brush effect of Photoshop for example.

I highly recommend the MA-Brushes to you. Those brushes are made after decades of experience. They have soft brushes with great textures made directly out of canvases and filbert like brushes for a thick paint effect and mixer brushes for different blending styles. All of them are perfectly balanced and tested over years of development.
Don't miss to learn more about them → here (a new tab will open).
So, have some great brushes and you are ready to go to the next step.

4. How to Draw / Sketch the Digital Portrait Painting
(Which is also the main part of this "How to Paint a Digital Portrait" Lesson.)
Important note:
These here are the main and basic rules for facial proportions – rule of thumbs.
Knowing these will help you to draw all the different other faces with their own proportions.
So you have to check them for yourself for every portrait painting you make.
If you also want to know how to set up your digital painting program like Photoshop for portrait painting you can watch my video about it here on my YouTube Channel (will open on a new tab)!
Now, let's go and start with the cross!
What? The cross? Isn't it a symbol for the end??
No, it's a symbol for the start of a new portrait painting! ?..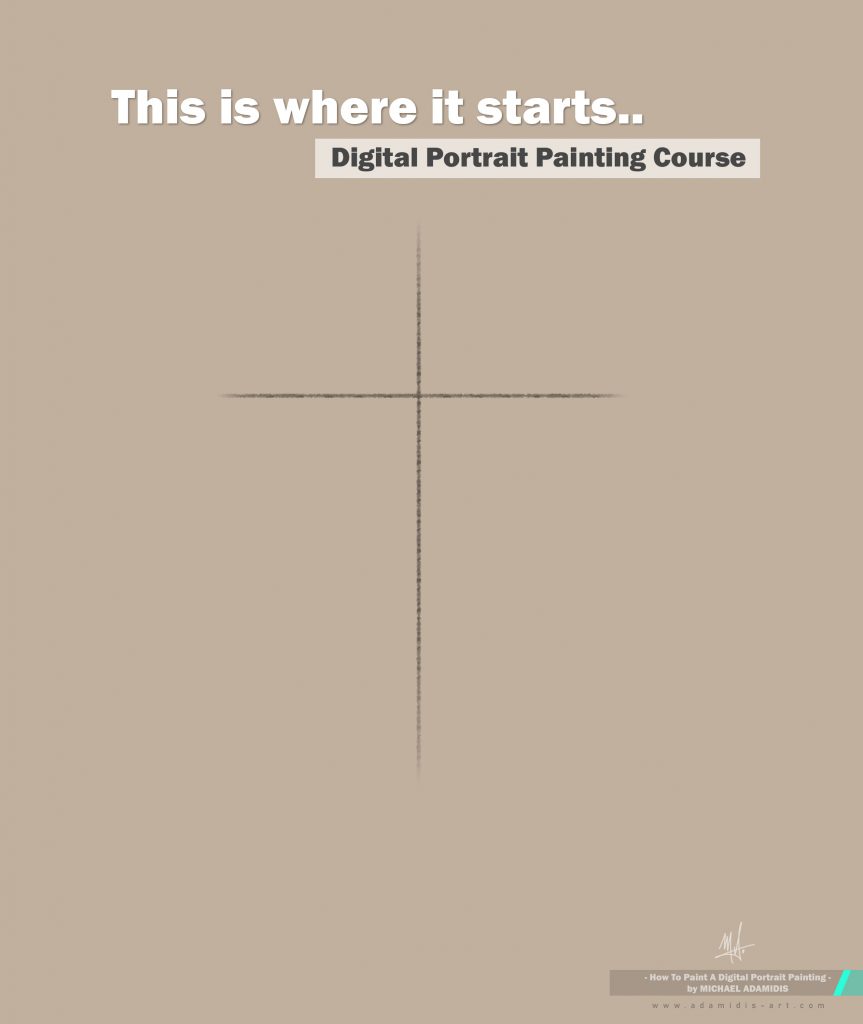 And, yes, in all my personal experience, this is the best way to start a portrait and also a digital portrait painting.
I've tested for years and decades all the known and not known techniques for drawing the main proportions of the face, and I'm always coming back to this one.
It's the most accurate one, thus the one with the best result – the easiest way to achieve a good portrait painting.
Ok, I will from now on mark every rule in bold, red colored letters.
My style of drawing is created for the best results. It differs in some ways from the known standards. That's wanted. I wanted to find the very best way of drawing the portrait. Not just rules, but rules practically applied.
So, draw the lines of the cross at the same angle as the reference face. It's a good help to use the pen of your drawing tablet to hold it in front of your monitor to check the angle.
The horizontal line is for the eyes.
The vertical line is for the middle line of the face (it crosses the nose and the mouth at the middle).
This is not directly a rule, but the first and important step, so it's also marked blue.
The first rule is that the eyes have a distance of an eye to each other.
This, like all the other rules here, is a rule of thumb. They are approximated rules, which are a good help for a starting point. With this rule in your mind you can check the distances. If the distance between the eyes is smaller, you are able to recognize it and draw it. Train your eyes to understand such relationships. Those relationships are key to a good proportional digital portrait painting.
-> By the way, I will not say this repeatedly for each rule.
It's always the same: use the basic rules to see and check if they are the same or if they differ. Are there smaller or bigger distances? You have to recognize it and draw accordingly. Let's call this also a rule: Draw what you see and not what you know!
It's the main skill you need to develop as a true portrait painter and believe me it's possible. It's the science part of painting. You are the scientist and your world to discover is the face you're painting.

Now you have placed the dots for the right placement of the eyes. Before we go to the nose, draw the eyes. I highly recommend also to you, to paint the eyebrows already now. You will have the right distances and proportions through the placement of the eyes. This here, I will give to you without proportional rule. You will see that if you have the eye shape, that you will know where to place the eyebrows. So don't use a rule for those.
Use your eyes!
If you like, draw the iris of the eyes now. You can also just indicate them with simple lines, like you can see in the image.

Now you have drawn the eyes and the eyebrows, let's go to the nose. And we are not going to the downside of the nose. We are going to the circle of the tip of the nose.
The distance from between the eyes to the tip of the nose is also an eye length long.
We can use this length because we have it already, that is why we are going first to the tip of the nose. It helps a lot to take the half length of the eye we have to the middle line of the face and double it downwards.
Paint first a little dot and then try to draw the circle of the tip of the nose.
-> Find now also the lower line of the nose (this with the help of you eyes). Put a small horizontal line here.

Next, find the side edges of the nose. They are almost every time exactly on an imaginary vertical line straight down from the inner points of the eyes.

> Draw the nose and it's main shape.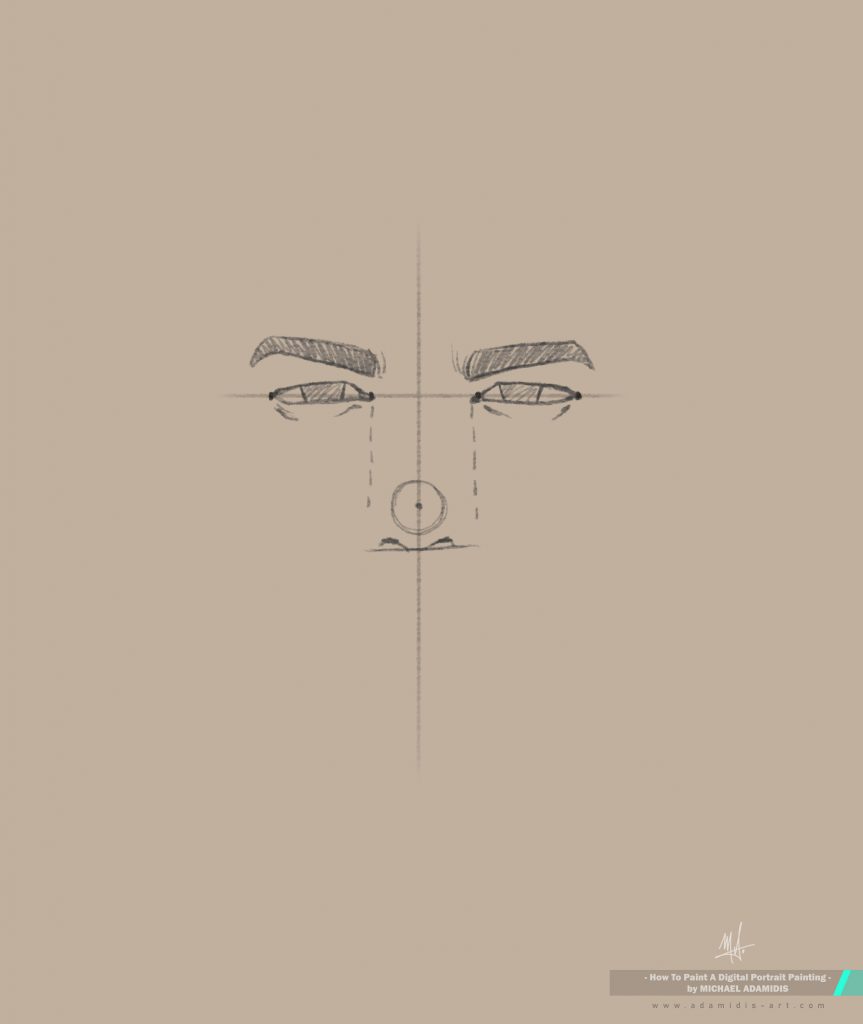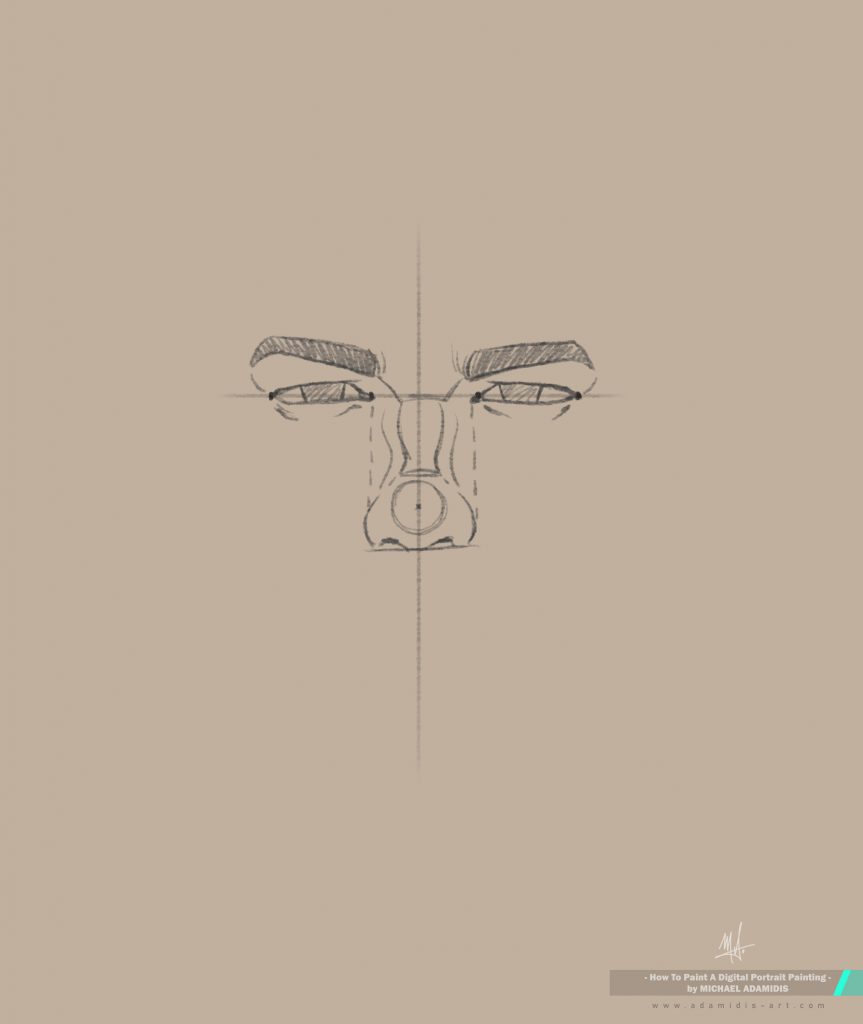 The mouth:
take this same length of the eye and go from the tip of the nose down to find the middle line of the mouth!
The end points of the sides of the mouth are very often on the vertical line down from the iris of the eyes. Find the right spot accordingly to your reference face.
> Now draw the mouth by defining the lips.
Spot the chin:
Take the eye length again, start from the end of the lower lip and go down, and you have the ending line of the front chin of the face.

Check also this alternative to find the chin line could be (better solution!):
Take the length from the eye line to the end of the nose (not the nose tip!) to define the distance from the mouth to the chin.
This again is just a rule of thumbs. Check always the real distances and proportions of the face twice and go with your scientific result.
Next, take the length of the mouth to the chin and use it to measure the distance from the eyebrows to the hairline.
The basic very helpful rule here is: chin to mouth, mouth to eyebrow, eyebrow to hairline = 1/3 + 1/3 + 1/3!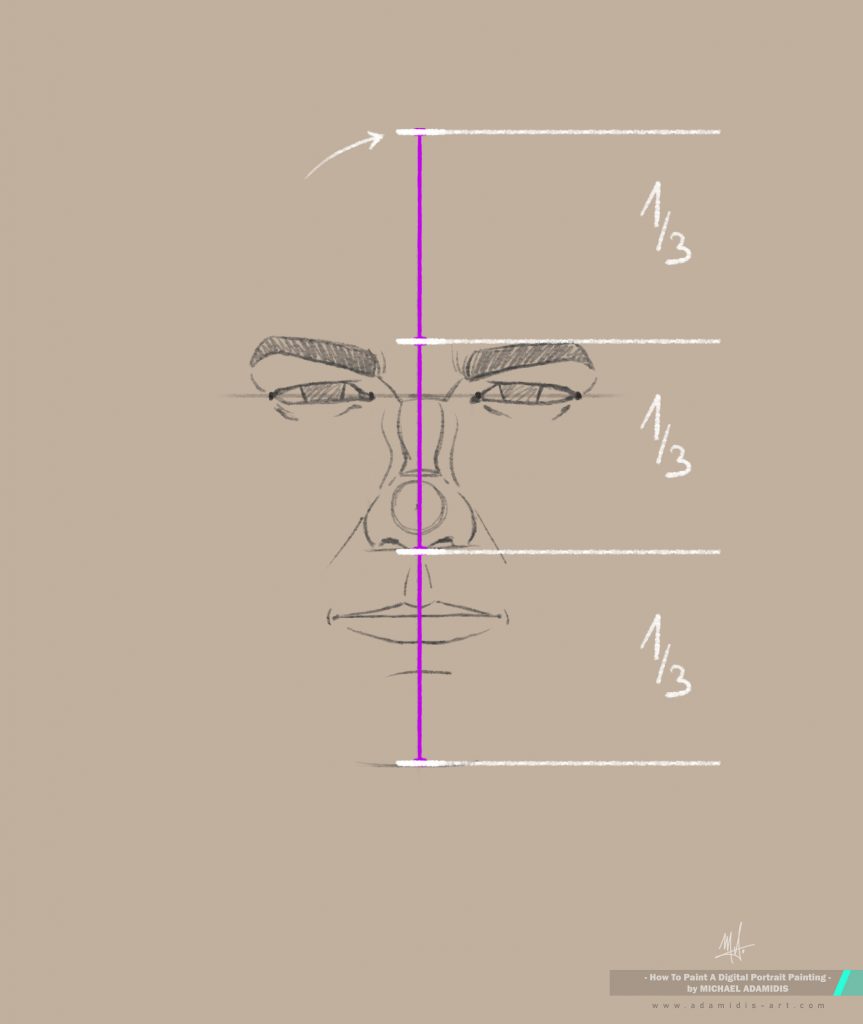 Now, if you take the distance from the chin line to the eyes, double it and find the upper end of the head.
Remember: The eyes are (often..) in the middle of the head.
Here are two additional rules that can help you to find the outside lines.
– Sometimes the end of the chin sides is exactly on that horizontal line from the mouth 2/3 mouth away from its corner (see the image).
– The vertical side lines (left/right) of the face are ending at 2/3 eye length (of course this varies also) away to the sides from the eyes.
The ears –
Their position can differ very much, but it's a help to know that they are often on an imaginary line to the sides from the eyebrown and a second line to the sides from the downside of the nose.
Draw both ears.
Draw the rest of the head with the shape of the hair.
Hopefully you can now draw all the other needed lines for your digital portrait painting.

With practice you will get better and better. Be correct while drawing but never bad to yourself. Always be forgiving.

The winner is never the person who never falls, but the one who stands up, learns and proceeds.
I'll mark this as a rule, too! ?
5. Find the Right Colors for Your Digital Portrait Painting
Gray is not a good choice…
but it's funny, and quite satisfying to apply colors on it! 🙂
In digital painting it's possible. But this here was just an experiment – not more.
I don't recommend of course it to you.
Use the main color of the face to block it in.
For that you have two choices.
Either you go directly for the reference photo and use its colors or you take colors from other references, where you like the color scheme.
This is of course more risky, but sometimes it can't even be avoided, for example, if you have received a reference with very washed out colors or even in black and white. Third case, which is quite often the case, is when the camera (often the mobile phone) has taken the photo with really bad colors. Often these are reddish, oversaturated faces. I feel really sorry for the whole world that the mobile device developers have this urgent aim to add this so ugly red to our faces. I don't want to know how many young people have depression just because of that "lie" about their face.. I really hate this fact.
In those three cases you have to find reference photos and take from there the right colors. This is again so risky. Search for "face" or "portrait" in google and you will quickly know that it isn't so clear, what is the right coloring.
Now, choose wisely and with an artistic eye.
If you want peace of mind for that important part, which can really ruin your painting quickly, take the amazing MA-Colors. If you want to have the best, most realistic and authentic colors not only for painting but also for printing, you have to check them. They were tested and developed over years and they do a job for you that is 10 times more the price they cost.
You will have forever the best colors for faces and landscapes at hand.
(…) -> The Link will come when it's avaiable soon. Also see my Art Store (Menu) if it's already available.
Now you are ready for the next part!
6. Start to Block in the Colors of the Background First
For that either check all the background colors of the MA-Colors and choose a palette or check once again google and see what you can find.
My suggestion is to search for "old portrait painting" on google.

One could argue that the background should be chosen well and really should match the person, but those backgrounds of old master paintings are often very neutral and desaturated and they will surely be very good for your portrait painting.
Those painters had already found the best colors for backgrounds that will accentuate the face.
I don't think you can do anything wrong by going this direction.
But you could quickly ruin your painting with colors you have chosen by some artistic algorithms in your head which are trying to develop a great complementary color to the person's dressing. In my eyes this can lead quickly to a catastrophe and some art teachers should be aware of it when they are advising that to their students.
Anyway, now take a great brush, which is mimicking a flat bristle brush, and with a good texture (like a canvas/linen texture) and block in those colors behind the layer of the portrait drawing, so that those can still be seen.
7. Shape the Facial Expression with Colors and Brushes
This part is important.
Have for it the best available colors and digital brushes for the digital portrait painting.
Most programs can handle the MA-Brushes but of course the very best result you will get with Photoshop for which they were developed. I always do recommend the MA-Brushes for digital portrait painting and I do recommend them also for digital landscape painting.
They are the very best for this task.
You can't do wrong with them. They have included flat bristle brushes, texture brushes, smeary brushes, brushes for hair and so on, AND they come with the Bonus the Magic Canvas, which will give you 26 high quality canvas textures.
The MA-Colors will give you the perfect colors for every part of your face.
You can't go wrong with this artistic equipment with you. Imagine how low the cost (one time) is for them in comparison with being an artist with costs for colors, brushes and the canvas for each painting. (…)
Now start to block in the main color of your face, the hair and the clothing with a mid tonal value of the main colors of those three.
Think about it like that: Later you will darken places and you will lighten places up. Here you are laying out the foundation.
Next, try to bring first shadows to the face. Often those shadows will go slightly to the low saturated reddish/orange tones. But be careful, take the right colors for every step here. Take care that you are not painting what you "think", but what you "see".
This is a common mistake you should avoid. Be very primitive when painting a digital portrait. There are enough other things you can do wrong, so at least take advantage of the right color picking and don't be too lazy to not do it often enough.

Same with the brushes. If you feel like you should change it, go for it, don't wait.
Go first smoothly with softer brushes and then shape edges or do first the rough work with a characteristic brush and then soften it?

These are things you really have to find out for yourself. It will also depend on what brush exactly you are using and how it is behaving.
I think for the start it is good to start smoothly with a softer brush or a mixer brush and then start to use brushes with more character to create all the edges of the face.
If you are using the MA-Brushes, I recommend you to use one of the Frost brushes or a flat one like the Oil Brush No. 1 v6 – both of the mixer brushes – to start blocking in the colors of the face and shaping the rest.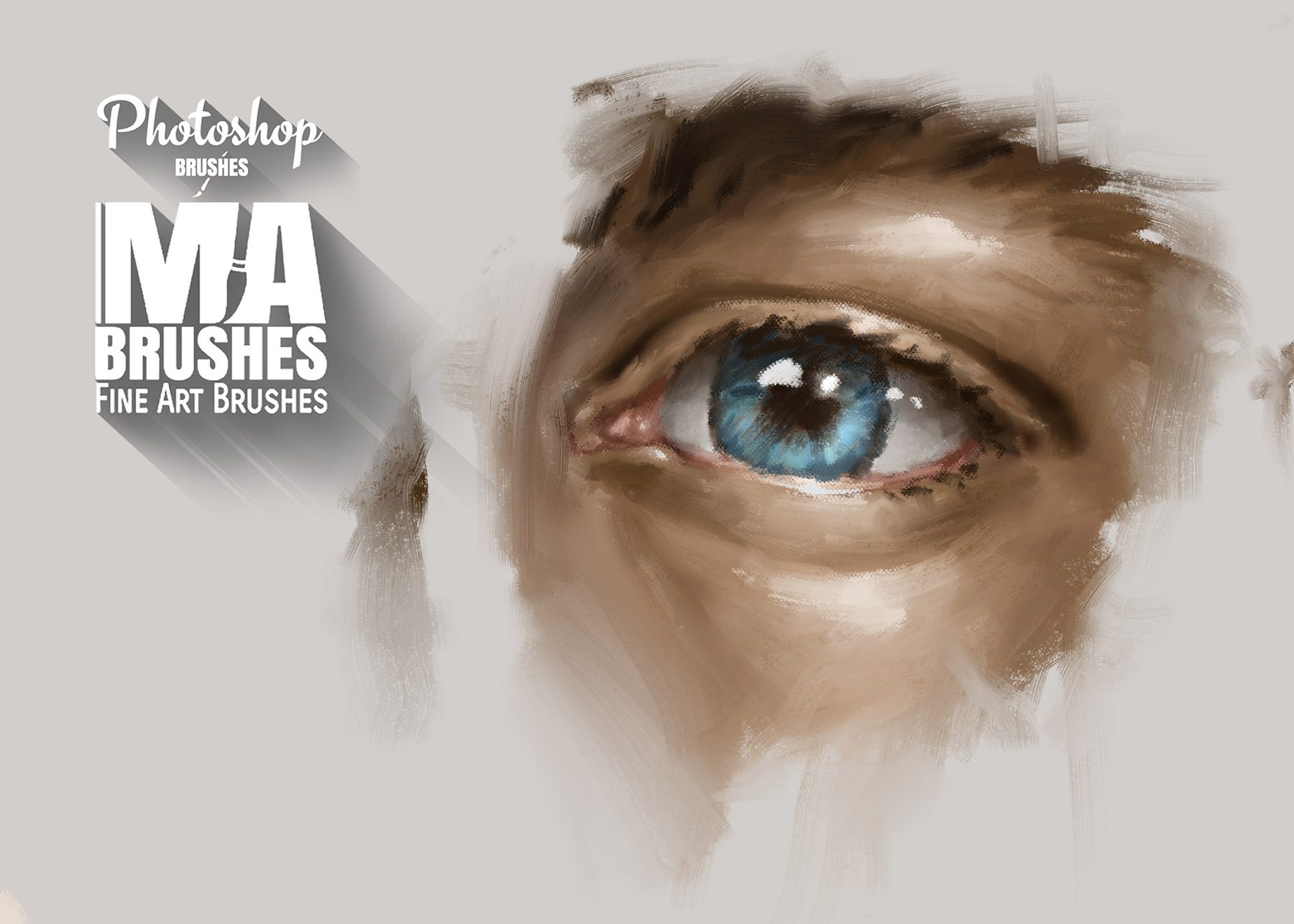 As said, create shadows and then also create highlights.
My suggestion is to go with one color (like a real painter would do) to all the places of the face. This is slowly building up the face.
So I, for example, do jump from here to there to shape all the forms through putting the colors with the right values to the right places.
I do enjoy this part, the same way as the drawing part. The background work for example costs me often some extra motivation.
Do you know those unfinished looking portrait paintings, where the background is painted just to the half..? Maybe those artists had the same issues. ?
The outcome of this part here will give a lot of character to your painting. So choose wisely how you want to express colors and forms.
If you have blocked in all the different colors and your shadows and bright areas are already defining the facial expression, you are ready to go to the next stage of painting the details.
Btw, I do recommend that you wait with the details till it's their turn. Don't start with details in the coloring time. It will irritate you and your painting will look so uneven and surely also somehow scary.
So better have everything ready and quite far till the details part. This will give you a better overall control of them and your digital portrait painting will have a more balanced look.
8. Paint the Details of the Face
Paint much of them?
Paint less of them?
This depends now on you.
With a Sargent like style you really have not to do too much of those details.
But for a high definition painting it takes some more time and extra passion.
Again: take care that you are not going to make an exact copy of the reference photo.
Be a master in deciding how to paint details and where to put them. This takes a lot of practice and experience, but for the start of course: just go for it.
The digital brush for portrait painting you are using now will once again make a huge difference.
Plan details especially here:
The eyes
The nose
The mouth + teeth
The facial hair
Some of the hair
By the way, if you like very loose painting, still consider having details on those places – especially the eyes.
Have also brushes that mimic a real brush stroke for the highlights (perfect for that are the brushes filbert brushes category of the MA-Brushes for example).
Imagine being a traditional portrait artist putting some very thick, artistic and characteristic last brush strokes to the painting.
What a pleasure!
(…) detail brush stroke
9. Work on the Texture of the Portrait Painting
Enjoy now giving some texture to your almost finished painting.
Have brushes with textures for the details on the skin if you like.
Put also texture to the clothing and the background and maybe the hair.
Use for this mainly a brighter tonal value.
Also be careful to not overdo it. Just here and there to give a small impression of a texture where the reflection of the light will hit. You are an artist with a good feeling for the right amount for it, so let your painting shine, but not glow.
10. Finish Your Digital Portrait Painting in Different Ways
First way: throw it out of the window.
2nd way: think of letting it be like it is. Its finished! Don't ruin it.
3rd way: use artistic ideas, like big smudges at the edges of the head, or soften/mix the edges of the head with the background.
You could also use artistic lines over the whole painting to bring a special character into it.
Maybe you want to use smudge the clothes or you could add artistic textures of other images. Maybe some letters, words, sentences?
You could use the knives out of the MA-Brushes as I often do to create a real painterly looking portrait painting. Very wet and full of paint.
I mean, really there are no limits for this part here.
Just please: don't ruin your painting.
And if you are doing a commission portrait this part is not that important.
FINISHED! – Now, take a warm, nice bath..
You have mastered the part of the digital portrait. Go ahead now and draw and paint as much as possible. Enjoy!
– Michael
You may also like: