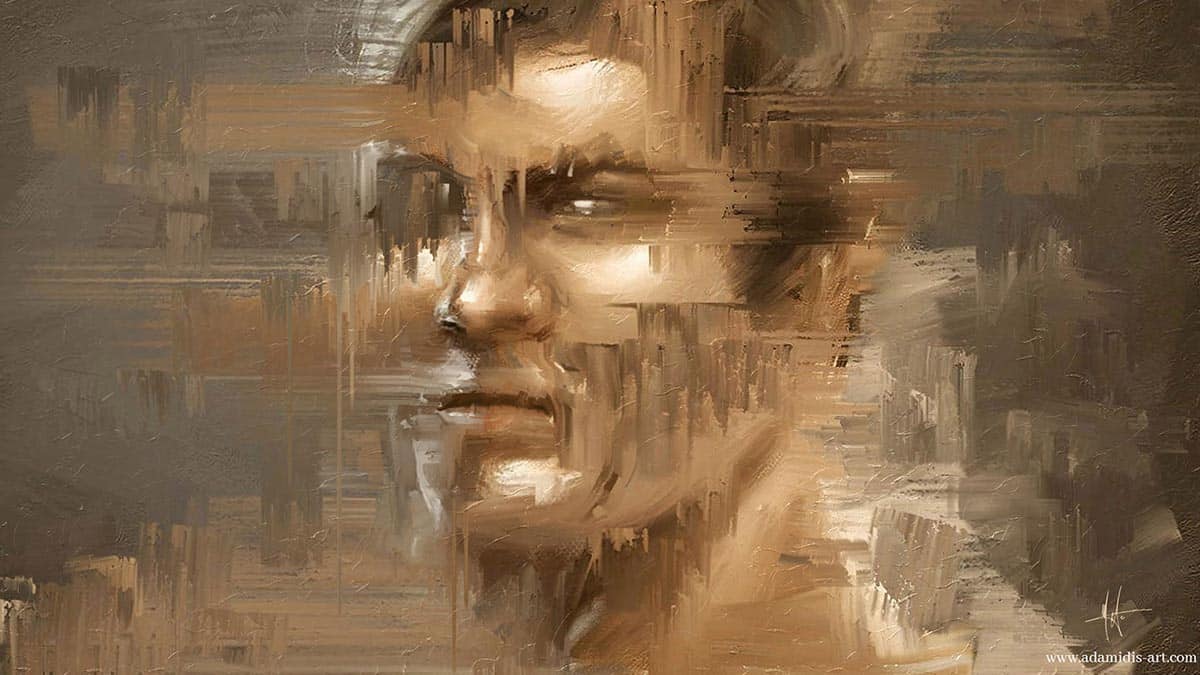 Brushes for Photoshop Art Painting
with Oil Texture
Artistic Photoshop Oil Brushes for digital Painting
Welcome to the official page of the MA-Brushes for Photoshop.
The MA-Brushes are created to give you the maximum power in your digital Painting experience.
Simply said: – Created to be Creative – !
Talent and skill is a great thing, but without a powerful tool they can not fluently being act out – that's a big hindrance!
The MA-Brushes for Photoshop are developed in a process of many years. I was very unsattisfied with the thousands of free brushes available out there. For my work as a professional Concept Artist (Game Industry) I had to have brushes that will create the things, I had in my mind, in a great way.
The MA-Brushes are 416 Oil and Acrylic Brushes made to lift your art to the next level.
They are selected and well sorted.
Photoshop MA-Brushes Close-Up Screenshot Gallery
The Package contains Photoshop Painting Brushes like:
Portrait Fine Art Brushes, flat Brushes, round Brushes, Fan Brushes, Filbert Brushes, scratchy Brushes, Impasto brushes, Canvas texture Brushes, Oil Brushes (Mixer Brushes), Frost Texture Brushes (Oil Effect), Palette Knives, diffuse Brushes (Clouds), Brushes for Grass, Brushes for Trees (also Evergreens), Brushes for Leaves, Rocks….
The Magic Canvas and its 26 HQ Textures:
Also included in this Brush Pack is the Magic Canvas.
It is a Photoshop file (psd) which contains 26 HQ CANVAS TEXTURES that will bring your painting literally to life! Your search will come to an end here.
–> It's pure joy to paint on the Magic Canvas with the MA-Brushes.
---
The MA-Brushes are developed for:
✅ Landscape Painters ✅ Portrait Painters ✅ Concept Artists ✅ Abstract Painters ✅ Art Students/Studies ✅ Graphic Designers
You'll get here a high quality product with selected brushes.
Don't waste any energy in searching and creating brushes when it's all done for you.
ENJOY FROM TODAY ON YOUR DIGITAL PAINTING !
Get the Brushes from Gumroad as a secure download!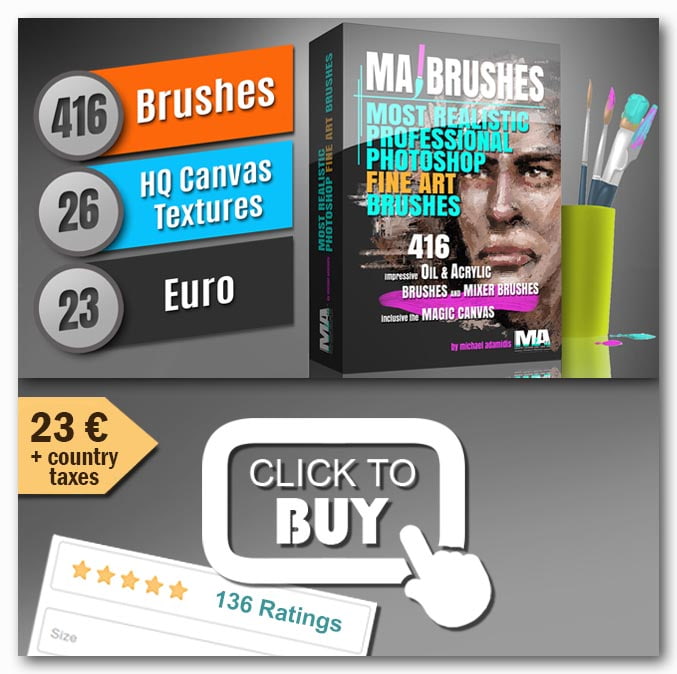 | Feedback for the Photoshop MA-Brushes
"Your brushes are pretty badass! The 'Magic Canvas' is particulary amazing. These brushes work so well together for the (different) tasks they were created for. This effort you went through to perfect each one of them, not to mention arranging everything into orderly groups, is really phenomenal. Thank you!"
– Dan Collins, London Website
---
"Okay c'est juste le style Exact que je cherche à reproduire avec mes painting, j'achète des demain ton pack, c'est tout bonnement sublime, beau travail!
ENGLISH: With joy I wrote the comment in french language! I checked the art brush pack today and damn, you can't imagine how they pass my skill to next level, this is insane. The quality of the brushes and the canvas textures make incredible difference with all my "past tests" especially for render thick paint, thanks alot, buddy !"
– Vince, YouTube comment
---
"I purchased these yesterday and am addicted to using them! Such a great pack of brushes."
– Leftanderson (Instagram)
---
"Your brushes are just incredible!! I have never thought, that something like this would be possible in Photoshop. (…)"
– James, Newcastle
---
"I love these brushes!! They are the single best brushes for Photoshop (If you like oil and artistic painting) or even if you don't, of course.. They are really MAGICAL!! The only brushes I will use from now on."
– soulofapainter on Instagram
---
"(…) Personal for me the best painting brushes for photoshop ever. I have deleted most of my own brushes I have done through the past years (…)"
– Da Chun, Taiwan
---
I just bought your photoshop brush set and they are really amazing. But how good is your magic canvas with it's textures, if anyone wants to get that special oil painting feeling from their digital art, the magic canvas is a huge game changer. It's worth the money on its own!
– YouTube Comment
| More Feedbacks

"Let me say it like this: Your brush set with the canvas textures is an incredibly realistic & satisfying way to work… WELL DONE!!"
– Steve Hewett, Detroit Website
---
"(…) This pack is awesome! I didn't had time to check all the brushes of the set yet, but the brushes I've tried so far are so AMAZING and useful! Amazing job Michael!"
– Richard, Oakland
---
"Dear Michael, your photoshop oil painting brushes are just so extraordinary! There are literally no limits to the choices. They are in an incredible quality and realism. My Photoshop works also very well with them. I love them so much! I want to thank you for creating & sharing them with us!! ;-)"
– Mary Brun, Varese (Italy) Website