Welcome to the official website of the MA-Brushes!
Let me show you how I've improved within a short time my digital painting skills. For that, I've used the astounding MA-Brushes. Here is the safe shortcut to take also your skills to the next level, and to enjoy digital painting like real painting.
The powerful MA-BRUSHES have been created to bring the experience and joy of traditional canvas painting to the computer screen, to help making the digital painting technique more efficient, authentic, realistic and natural!
Together with the included 26 HQ Canvas Textures of the "Magic Canvas" this collection is like a revolution in digital painting. A strong helping hand for every digital artist. You can experience the joy of traditional painting and create the best art you've ever created!
Enjoy Every Moment Painting With The




Painterly

MA-Brushes

!
While painting with a realistic digital brush the textures of the Magic Canvas will appear on the painting.
Everything painted has that magic touch of a realistic painting – No matter if you are a professional or a beginner in digital art.
With the MA-Brushes the artist's talents and skills can be fluently acted out without any hindrance. They enrich the whole digital painting process, so every idea can be brought to life with ease and joy.
The MA-Brushes were originally made for a team of professional digital artists, all working in the game developing industry, and they are now available for everyone.
DIGITAL Art Brushes That Mimic Real
TRADITIONAL Art Brushes
Coming from traditional art and working in the Game and Art Industry for over 10 years, I really was frustrated with all of the free Photoshop brushes available out there. So over many years, I've started to create and test thousands of Photoshop brushes and put all my heart into it, to finally pick the very best 416 BRUSHES in an outstanding fine art brush pack – The MA-Brushes!
The MA-Brushes are highly unique, realistic and effective – A commitment guaranteed by myself as a Visual Artist/Concept Artist and Painter now for over 15 years, and also by considering all the positive feedback I am getting from the customers. (You can read many of them at the bottom of this page here.)

Two years of creation and development, and all of my knowledge from the experience as a Visual Concept Artist is put into the MA-Brushes, with the main goal to achieve the highest possible quality. For me quality is right next to beauty. Bringing them together and adding a lot of time will bring perfection as the result.
You can instantly benefit from those brushes and bring your skills quickly to the next level. That's a shortcut, I wish I had back in the days.
– Michael
Change FOREVER your digital painting experience

.


Digital art brushes have never been so realistic!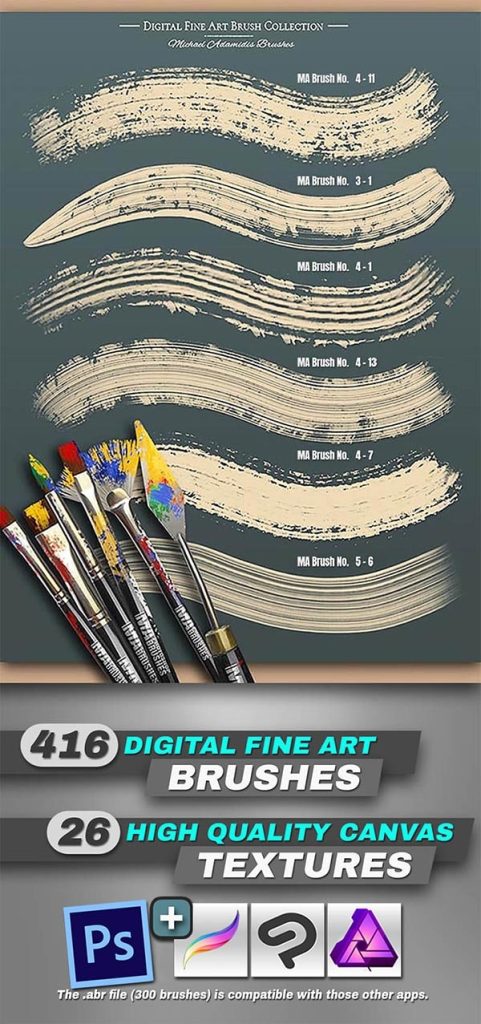 Extra BONUS: 26 HQ CANVAS TEXTURES
Along with the MA-Brushes you will get the Magic Canvas, which is a Photoshop file that includes 26 very special Fine Art Canvas Textures that also harmonize with the Brushes! This file has a 5000*3299 resolution so it is constructed for large paintings and prints.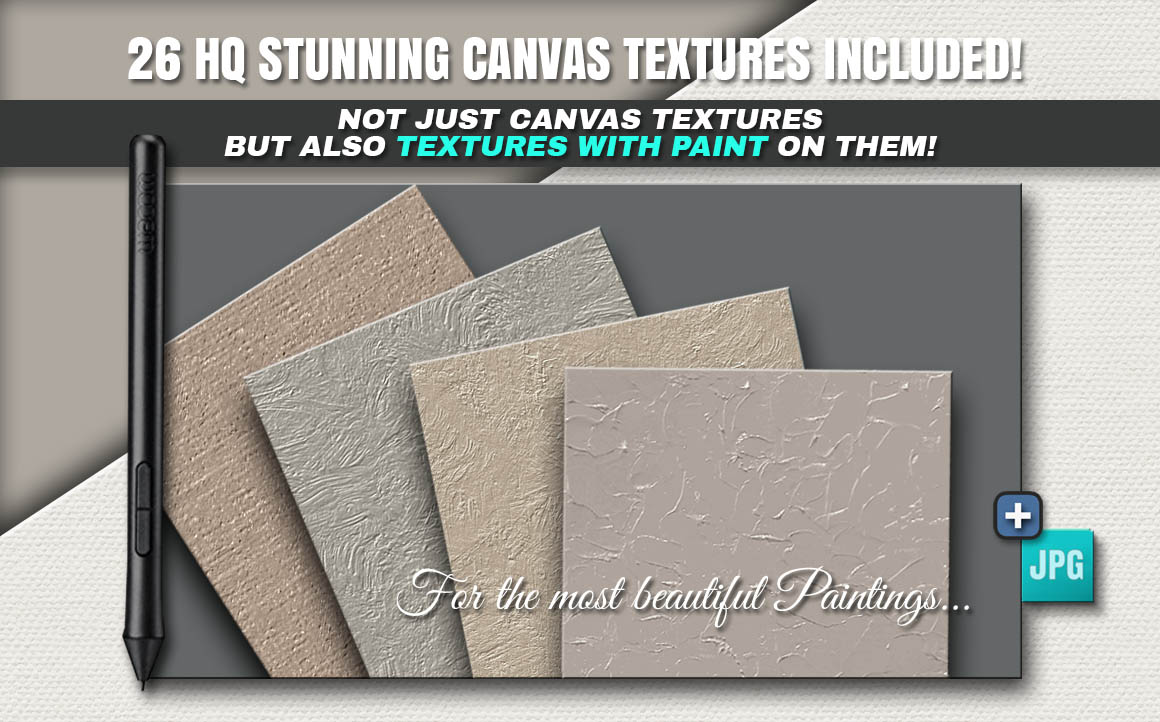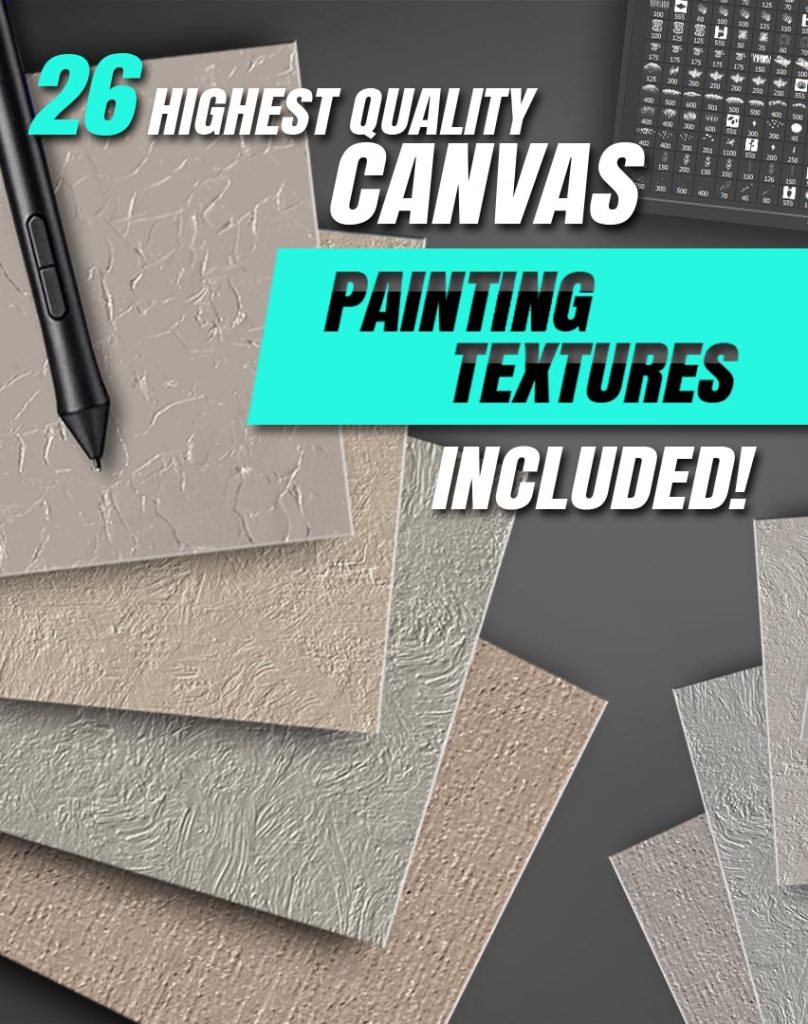 IT'S A PLEASURE TO PAINT WITH THE
MA-BRUSHES ON THE MAGIC CANVAS

IT'S A PLEASURE TO PAINT WITH THE
MA-BRUSHES ON THE MAGIC CANVAS
It's time to PAINT again!
If you are tired of just photo-bashing, the artistic MA-Brushes for Photoshop are the best available choice for you. Bring all your precious ideas to the canvas without wasting time looking for the right brushes. From start to finish you will enjoy your paintings with the help of these brushes.
✧ ✦ Created to be Creative ✦ ✧
You will have with the MA-Brush Set:
☑️ → Brushes for Digital Concept Art
☑️ → Brushes for Digital Portraits
☑️ → Brushes for Digital Landscape Paintings
☑️ → Brushes for Digital Environmental Art
☑️ → Brushes for Digital Abstract Paintings
☑️ → Brushes for Digital Impressionistic Paintings
☑️ → Brushes for Hair, Clouds, Trees, Grass, Bushes, Leaves, Foliage, Stones

☑️ → All Brushes are categorized and well sorted!
☑️ → Have them all together in one Brush Pack – the only one you need, if time and quality is important to you.
▶ Watch here the official trailer of the MA-Brushes!
Change Your
Digital Painting

Experience Now And Forever
Requirements: The MA-Brush Pack is a download product.
Filesize 1,60 gb.
Get Your Copy of The MA-Brushes as an Instant Digital Download.
If you scroll down you can learn about the available BUNDLES! – Benefit by purchasing the MA-Brushes together with my exclusive and highly detailed digital art painting courses.
OR…

Or save money and get them in a BUNDLE with the brand new
FULL Digital Painting Course!
SPECIAL OFFER – MA-Brushes + FULL Digital Art Painting Course!
-> Learn about this amazing course here: Link
Digital painting is about the tools and the know-how, and that is why I don't have created just brushes but also extremly helpful and useful digital painting courses. You can also find one great course in a bundle together with the MA-Brushes.

| Feedback for the Photoshop MA-Brushes
"Your photoshop brushes are pretty badass. The 'Magic Canvas' is particulary great. All of these brushes work so well together for the different tasks they were designed for. That effort you went to perfect each one, not to mention arranging everything into orderly groups, is phenomenal. Thank you."
– Dan Collins, London Website
---
"Dear Michael,

I've just downloaded your MA Brush pack, and I have to say they are probably some of the best brushes I've ever seen or used. I've been looking so long for brushes that capture the essence and feel of physical brush strokes, so far without much success. Practically all of those which I have seen and used, whilst good, don't emulate the actual look of a stroke.

Also, the canvases that you include are superb. In the past unless one had to go to great lengths to design a canvas, then design the brushes to paint whilst still retaining the texture of the canvas. The other option, of course, was to add a canvas texture afterwards in Photoshop, which looked wholly unrealistic.

So thank you once again, keep up the great work!
Yours sincerely,
– Mark Rolfe
---
"Hey Michael, just started using your MA Brushes, and I am ecstatic, they are simply amazing, I can now create any type of scene, object, landscapes I want to, and it looks like its really painted on canvas,
and the best part is when I am finished, I can actually say to myself, "that's awesome" for me anyway,
thank you so much for all the time you put into designing and making them, Cheers Kev"
– Kevin Borg
---
ENGLISH: With joy I wrote the comment in french! I test the art brush pack today and damn, you can't imagine how you pass my skill to next level, this is insane, quality of brush and canvas make incredible difference with all my "past test" especially for render thick paint, thanx alot buddy !!"
– Vince, YouTube comment
---
"Michael, your brushes are just incredible!! I have never thought, that this is possible in Photoshop. (…)"
– James, Newcastle
---
"I've been seeing these brushes on pinterest and I finally bought them today and they're truly amazing. The texture and the feel they give… Honestly i cannot thank you enough. Great work!"
– gny.zey on Instagramm
---
"Love these brushes!!! They are the single best brushes for PS (If you like oil painting) or even if you don't.. They are MAGICAL! The only brushes I use now"
– soulofapainter on Instagram
---
"(…) For me the best photoshop brushes ever. I have removed most of my own brushes I have gathered through the years (…)"
– Da Chun, Taiwan
---
Just bought your brush set and they are amazing. But how good is your magic canvas, if anyone wants to get that oil painting feeling from their digital art, the magic canvas is a game changer, worth the money on its own.
– YouTube Comment
| More Feedback
"Let me say that your brush set with the canvas combination is an incredibly realistic and satisfying way to work…..WELL DONE!"
– Steve Hewett, Detroit Website
---
"(…) This pack is big! I didn't had time to check all the brushes yet, but the ones I've tried are so AMAZING and useful! Great job Michael."
– Richard, Oakland
---
"Dear Michael, your photoshop painting brushes are so extraordinary! There are no limits to the choices. Incredible quality and realism. Photoshop works very well with them. I love them so much! Thank you for creating and sharing them with us. ;-)"
– Mary Brun, Varese (Italy) Website
---
"These Brushes are amazing and also the Magic Canvas (…) There are some brushes that so much relieve painting that's unbelievable!"
– Hristov, Bulgaria (via Facebook) (See one of his paintings in the above Screenshot Gallery.)

---
"(…) they're worth every penny! AMAZING photoshop painting brushes, and the Magic Canvas really is MAGIC!"
– thecrownprints (Instagram)

---
"Your brushes are AWESOME … I am still exploring them and more and more they fit greatly for different elements in my art (fantasy).. Thank you so much for your hard work and contributions in helping other artists find their niche."
– Pamela DelliColli, United States Website
---
Just bought these! These are perfect, thanks so much for taking the time to do this! I've been looking everywhere for these types of brushes 🙂
– YouTube Comment

> Click here for the german MA-Brushes site
I am using the latest version of Photoshop for digital Painting.
Also recommend to check out for digital painting Painter.
Give my new blog about digital portrait painting a read.